All In One, One For All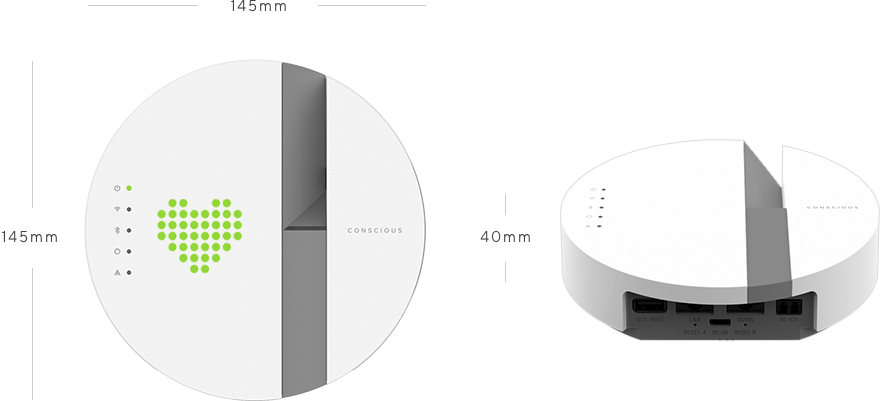 Width

145mm

Height

145mm

Depth

40mm

Weight

249g


※The weight of CONSCIOUS premium is 283g.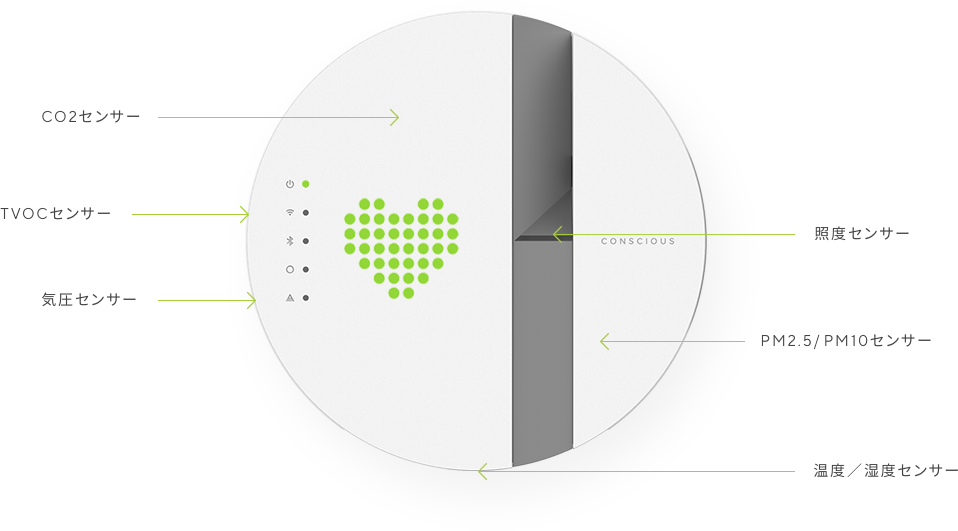 CO2

400 – 10,000ppm

Pressure

260 – 1,260hPa

TVOC

125 – 600ppb

PM2.5/PM10

0 – 500μg/㎥

Illuminance

0 – 1,500lux

Temperature/humidity

0 – 50℃ / 10 – 85%RH
Product performance and measured values may differ from actual values depending on operating conditions and environmental factors.
Use this product only as a guide.
TVOC is a generic term for all volatile organic compounds (VOCs) and is also known as toluenes, benzenes, fluorocarbons, dichloromethanes, and formaldehyde, which are causative agents of sick house syndromes.
TVOC, it takes about 10 minutes for the CO2 sensors to acquire accurate values after turning on the power supply according to the specifications of the product.
Use the measured values of the TVOC sensors as a guide. This product cannot be used for measurements in accordance with the laws and regulations of government offices and local governments.
This product is not waterproof. Do not use the product in a wet or humid place or in rainy weather.
Please note that we shall not be liable for any loss or loss of profit due to the operation of this product.
The PM2.5/ PM10 sensors of this product may shorten the life of the product by being used in smoking rooms and other places where there is a lot of smoke and kitchens where there is a lot of oil.
※ Illuminance, Pressure, TVOC, CO2, PM2.5/PM10 are only available in CONSCIOUS premium.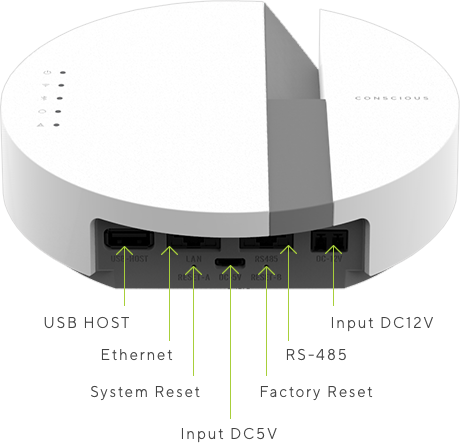 USB HOST(1)

Insert the Wi-SUN dongle (*option) to communicate with the smart meter.

System Reset

Restarting CONSCIOUS.

Ethernet

Network communication is performed using a wired LAN.

USB HOST(2)

Inserting the 4G/LTE dongle allows Internet connection via 4G/LTE.

Input DC5V

Supports power-on by micro-USB ports.

RS-485

Connect to a power conditioner, etc. for Modbus communication.

Factory Reset

Settings and data are initialized.

Input DC12V

Responds to the DC12V power from the terminal block.
The data uploaded on the cloud learns from each other and offers an optimal form of solution to the user. By linking products in the home, we can support natural and comfortable services that are more conducive to everyday life.
In cooperation with IoT products and ECHONET Lite products, the AI learns comfortable living environments for the family. For example, we will support energy saving and comfort by automatically adjusting the set temperature in the room to a comfortable condition in accordance with changes in the outside air temperature due to seasonal shifts.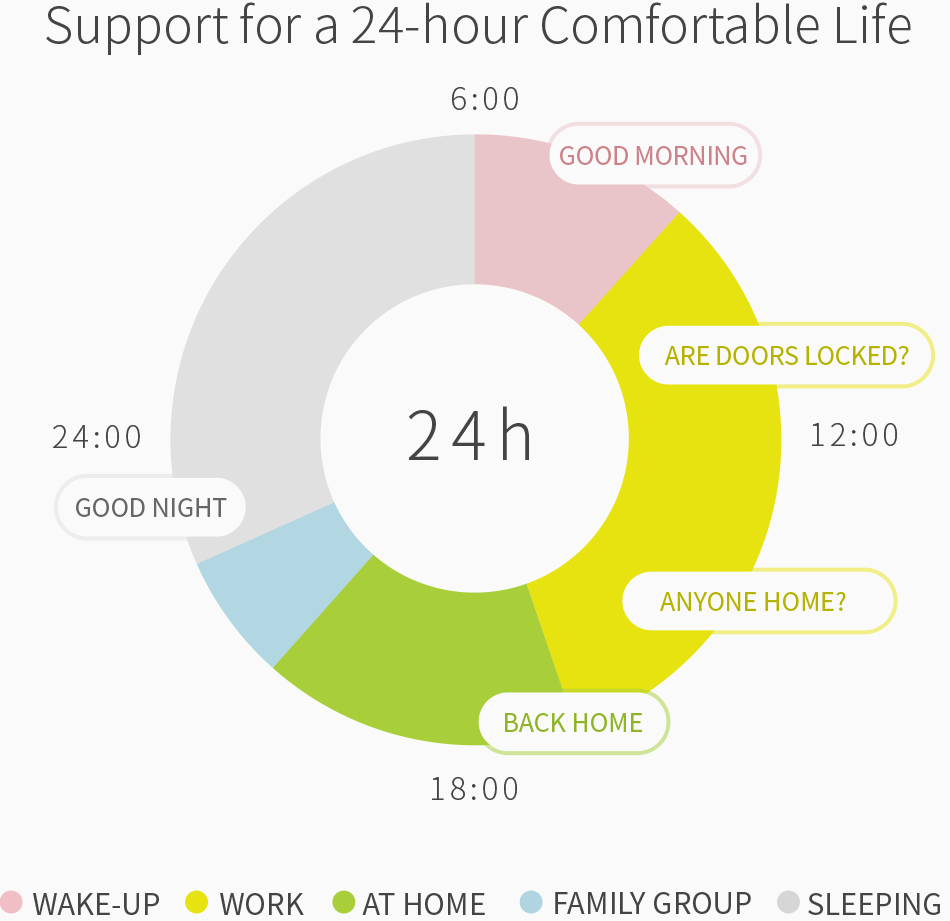 The morning when waking up changes

When it is time to wake up, the curtain will automatically open to allow sun light in. In cooperation with smart speakers, a smart life can be realized by speaking "Good morning" to turn on the lights in the room.

Have peace of mind outside the house

If you are worried about locking the home after you arrive at the workplace, you can control the smart lock device with the application. You can check the current situation of your child as well as other family members from anywhere at any time using the app.

Going home will be exciting

Turn on the lights of the house in accordance with the time you return home. The house will adjust temperature/humidity to your comfort as if it's welcoming you back.
List of Specifications
※ The entire function of the CONSCIOUS is "Patents pending".
Power supply

Rated input voltage/frequency : AC 100~240V, 50/60Hz
Rated output : 5V/12V
– Micro USB : 5V/2A
– Power supply terminal block connector/RJ45 power supply : DC12V-16V/1A

Connection

Bluetooth : Bluetooth Low Energy 4.1
Wi-Fi : 802.11 b/g/n 2.4GHz
LAN : 10/100 BASE-T
RS-485 : 2-wire connection
USB-A : Wi-SUN USB dongle, 3G/4 GUSB dongle

Display

1.5 inch 8×8 dot matrix display (emission color: green)

Sensor

Temperature : 0~50 °C
Humidity : 10~85 %RH
Illumination : 0~1500 lux
Atmospheric pressure : 260~1260 hpa
TVOC(total volatile organic compounds) : 125~600 ppb
CO2(carbon dioxide) : 400~10,000 ppm
PM2.5/PM10 : 0~500 μg/m³

※ Illuminance, Pressure, TVOC, CO2, PM2.5/PM10 are only available in CONSCIOUS premium.

Authentication
Operating temperature and humidity

Operating temperature : 0~50°C/10~85%RH
Storage temperature : -20~70°C/10~90%RH

Warranty period
Software

Dedicated applications and cloud services

– CONSCIOUS application : iOS 12. 3 or later, Android 7.1 or later
– Environmental sensor and HEMS
– Remote monitoring of indoor environments and HEMS data
– Temperature and humidity alert
– Air quality alert(Only CONSCIOUS premium)
– Software update feature
※ The specifications of the product may be changed without prior notice.