CONSCIOUS premium
The CONSCIOUS premium model
is equipped with 7 powerful sensors.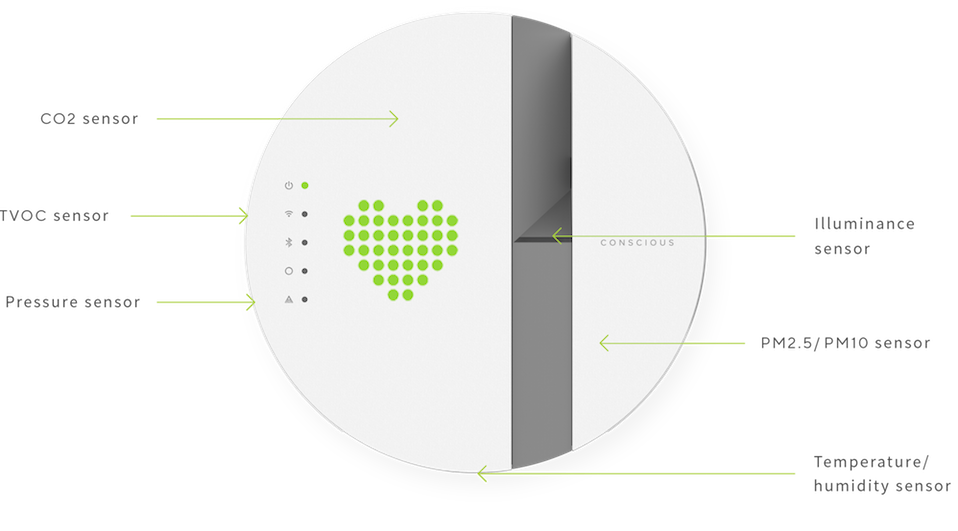 CO2

400 – 10,000ppm

Pressure

260 – 1,260hPa

TVOC

125 – 600ppb

PM2.5/PM10

0 – 500μg/㎥

Illuminance

0 – 1,500lux

Temperature/humidity

0 – 50℃ / 10 – 85%RH
SENSORS
Air Quality to Protect Health and Comfort
Clean Air, Beautiful Life
Air has not been visible, and sensors used to measure air were primarily based on how the human nose feels. CONSCIOUS can now visualize the quality of the air through seven power sensors to make your room healthier.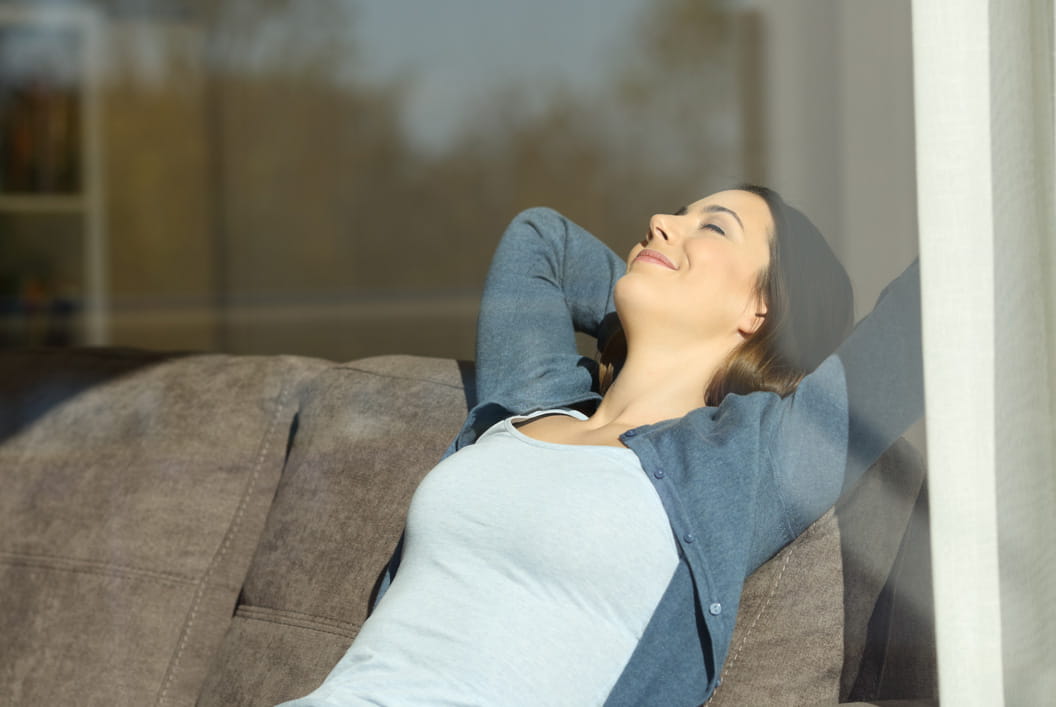 Health Effects of Air Quality
Elementary school students with increased proportions of asthma

※ From the 2011 Ministry of Education, Culture, Sports, Science and Technology's School Insurance Statistics Survey

Increasing number of elderly people with heat stroke in their homes

※ From the Ministry of the Environment's Heat Stress Environmental Health Manual 2018

Pollen flying throughout the year

※ From the Ministry of the Environment's "Major Pollens and Splashes"
Four Points of Air Quality
It is important to properly control the four factors of Cleanliness, Airflow, Temperature,
and Humidity in order to protect Air Quality.
Air Cleanliness

Air contaminated with Pollens, House Dust, Cigarette Smoke, CO2, and Total Volatile Organic Compounds (TVOC) is regularly beaten by air purifiers and ventilators.

Airflow

By moving the air so that the temperature, humidity, etc. are not biased to one place, the feeling temperature can be kept comfortable.

Temperature

Temperatures that are comfortable for the human body are 20°C to 30°C in winter and 24°C to 27°C in summer. The temperature is controlled so that there is no sudden change in the house by using the cooling and heating equipment well.

Humidity

Comfortable humidity is between 40-70%. It is essential for health management to moisten the skin and throat, especially during the dry winter season to prevent dryness of the skin and throat.
For Allergy and Sick House Syndrome
Pollens, Dust, Molds, CO2, TVOC, and other allergies and sick house syndromes are caused by particles and fungi that are too small to be visible to the human eye. Monitoring and improving air quality leads to family health and comfort.
※effect can vary deppending on individual.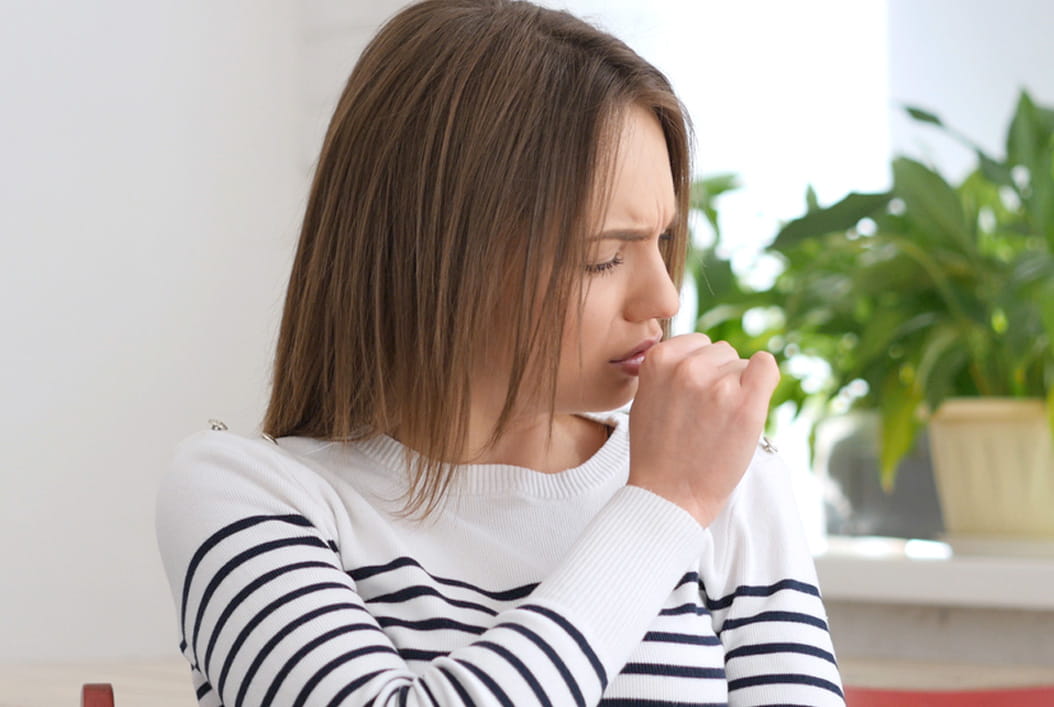 Live Smart – Improve Air Quality with Data
Air Quality can be checked at any time from the smartphone application. The home environment can be checked at any time even when you go out. In conjunction with air conditioners, air purifiers, and humidifiers, the setting of the equipment is automatically adjusted when the measured value exceeds a certain value. Powerful sensors mounted on the CONSCIOUS detect and signal invisible air.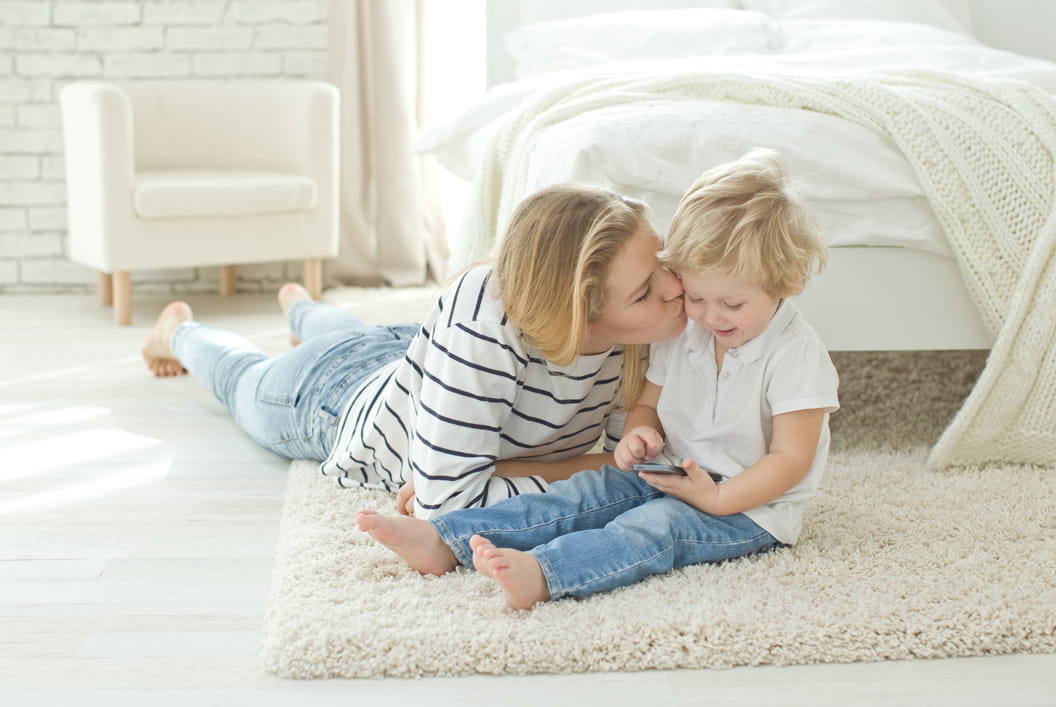 Product performance and measured values may differ from actual values depending on operating conditions and environmental factors.
Use this product only as a guide.
TVOC is a generic term for all volatile organic compounds (VOCs) and is also known as toluenes, benzenes, fluorocarbons, dichloromethanes, and formaldehyde, which are causative agents of sick house syndromes.
TVOC, it takes about 10 minutes for the CO2 sensors to acquire accurate values after turning on the power supply according to the specifications of the product.
Use the measured values of the TVOC sensors as a guide. This product cannot be used for measurements in accordance with the laws and regulations of government offices and local governments.
This product is not waterproof. Do not use the product in a wet or humid place or in rainy weather.
Please note that we shall not be liable for any loss or loss of profit due to the operation of this product.
The PM2.5/ PM10 sensors of this product may shorten the life of the product by being used in smoking rooms and other places where there is a lot of smoke and kitchens where there is a lot of oil.